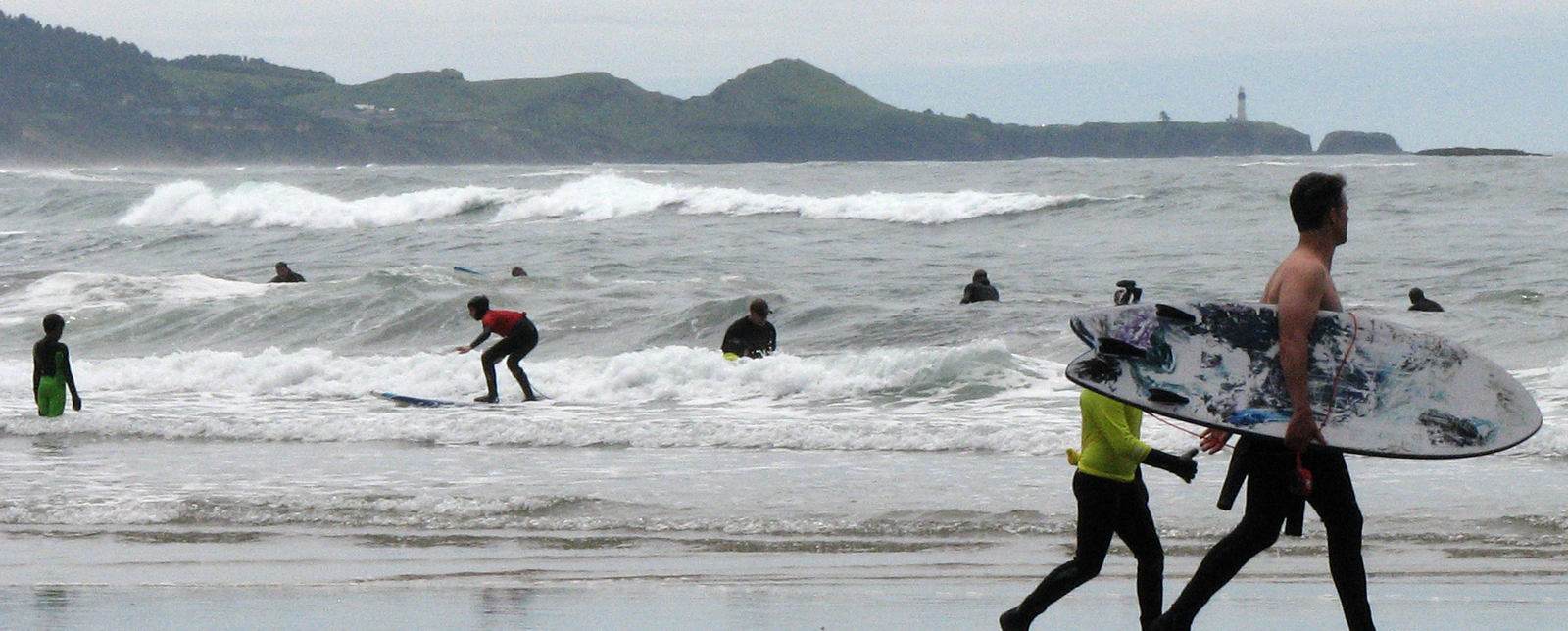 06.22.17
Share What You Love - Youth score surf and stewardship at 9th Annual Otter Rock and Roll competition.
By Newport Surfrider
June 17, 2017, The Surfrider Foundation's Newport Chapter hosted 58 competitors and over 200 spectators for the 9th annual Otter Rock n' Roll Youth Surf Contest and Beach Cleanup Challenge in celebration of International Surfing Day. The event drew competitors from all over Oregon! Observed globally, International Surfing Day celebrates the sport of surfing and helps raise awareness about issues facing our oceans, waves, and beaches.
The 18 and under surf contest and beach cleanup challenge kicked off Saturday morning at Otter Rock/Devil's Punchbowl State Park, running 24 fifteen-minute heats in divisions from "Best Beginner," which comes with surfing lessons and all the gear for surfing provided by non-profit Warm Current, to the hot shot 16-18 year-olds. The weather provided for plenty of sunshine and the sheltered conditions of Otter Rock kept the competition out of the wind with small, but clean swell. Conditions were favorable for the contest, with a small W ground swell bringing some larger, steeper set waves, that provided some really long rides for some of the more seasoned competitors. The "Parent with Child" division was the most popular with 10 parent/child teams battling it out over 6 heats throughout the day. The beach cleanup challenge, a popular way for the non-surfer and surfers alike to participate, awarded prizes for most artistic display of marine debris, most debris, and most micro-plastic collected. The challenge teaches stewardship and awareness of marine debris while rewarding and reinforcing cleanup behaviors. "We want the kids to have a good time surfing, and in a fun way also understand that it's up to us to protect what we all love – our oceans, waves and beaches," said Leo Newberg, chair for the Newport chapter. See photos from the event HERE.
Contest Results: (1st, 2nd, 3rd respectively)
-Best Beginner: Kenji Hoshi, Anneka Shaffner, Steffan Shaffner
-Most Improved: Kaya Hoshi
-Child w/ parent: Taylor Tice, Hailey Fueling, Olivia Richardson
-12/under Girls: Sol Linn Remmers, Marley Snavely, Avery Snavely
-12/under Boys: Taylor Tice, Brody Winger, Haden Mcalister
-13-15 Girls: Sarah Cordier, Lauren Cordier, Audrey Clunes
-13-15 Boys: Kai Huggin, Benjamin Clark, Trevor Tice
-16-18 Boys: Trevor Tice, Jonee Wright, Jesse Don Vera
The Newport Chapter is extremely grateful to our all the volunteers and local sponsors who make this fun, family event so special for our community – Russo Surfboards, Murdey Surfboards, Pura Vida Surf Shop, Figaro's Pizza, Ocean Pulse, Ossie's Surf Shop, Warm Current, Eon Graphic Design, Bike Newport, Cascade Coast Solar, Dutch Brothers, Moment Surf Shop, Safari Town Surf, Lincoln City Surf Shop, Xcel, Sanuk, Reef and Chowder Surf Co., Gorge Performance Surf Shop, Inn At Otter Crest.